Scan your computer with Norton Power Eraser
Norton Power Eraser is a powerful malware removal tool that can help you eradicate the security risks that are difficult to remove. If a program hijacked your computer and you have difficulty detecting or removing it, Norton Power Eraser may remove that security risk from your computer. It takes on difficult to detect crimeware known as scareware or rogueware that cybercriminals use to trick you into unknowingly download threats onto your computer.
Norton Power Eraser includes detection and removal capabilities for the security risks that impersonate legitimate applications (fake antivirus software), often known as scareware, rogueware, or scamware. The tool uses more aggressive techniques than your Norton product; hence there is a risk that it flags legitimate programs for removal. You should carefully review the scan results before removing any files.
When you scan and fix threats, Norton Power Eraser creates a system restore point. If you removed any essential files, Norton Power Eraser lets you restore the files using the Undo Previous Fix option. Norton Power Eraser lists the recent repair sessions where you can view and restore the essential files.
For more information about Norton Power Eraser, see Norton Power Eraser Tutorials.
Scan using Norton Power Eraser
In the Norton product main window, double-click Security, and then click Scans.

In the Scans window, under Norton Power Eraser, click Norton Power Eraser.

Click Go.

In the Norton Power Eraser window, click OK.

In the Norton Power Eraser main window, click Advanced Scans.

Click System Scan.

Review the scan results and follow the on-screen instructions to fix the security risks detected.
Video: How to run the Norton Power Eraser scan using your Norton product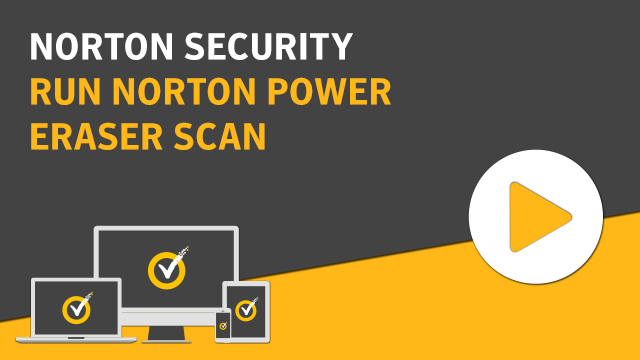 Video: How to download and use Norton Power Eraser to remove unwanted applications and threats